Unlocking Tender Win Probability: Strategies for Success
Unlocking Tender Win Probability: Strategies for Success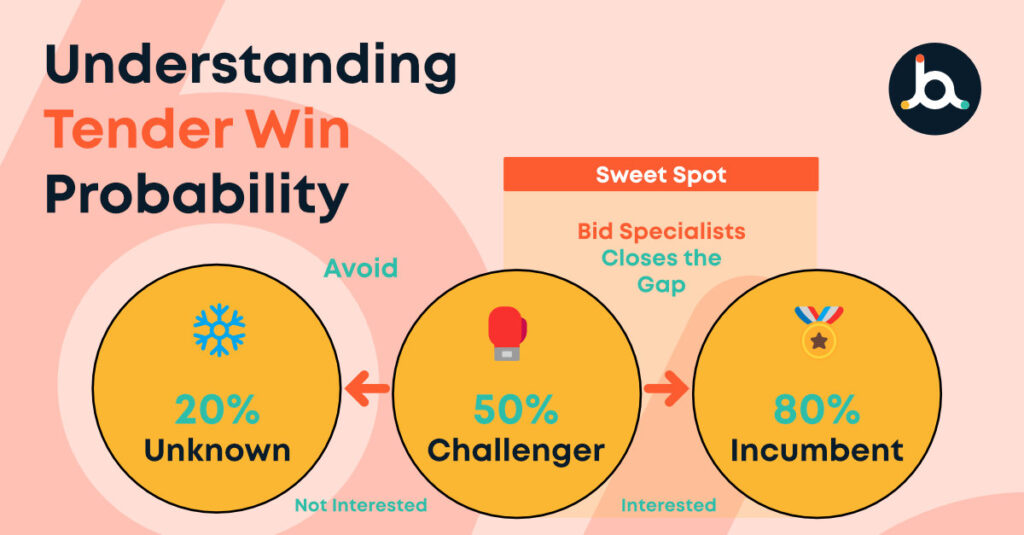 Winning competitive tenders requires a deep understanding of Tender Win Probability. In this post, we'll delve into the three levels of win probability and provide you with key strategies to maximise your chances of success.
Your chances of winning can be categorised into three levels in the competitive tenders. Let's explore each one:
1️⃣ 20% – Cold Tender – Unknown ❄️
Imagine stumbling upon a Cold Tender plucked from eTenders. You know little about its intricacies, the incumbent supplier, the buyer's behaviours, or even if the buyer is aware of your existence. It's like navigating in the dark.
🔑 Key Strategies:
Market Research: Invest in thorough market research to understand the playing field.
Tailored Approach: Craft a compelling proposal that educates the buyer about your value.
Networking: Reach out to potential stakeholders to build relationships from scratch.
2️⃣ 50% – Challenger 🥊
As a Challenger, you're a known supplier, possibly an industry leader, or you're challenging the incumbent for the contract. You have the skills, experience, and expertise to win, but the competition is fierce.
🔑 Key Strategies:
Showcase Expertise: Highlight your strengths and differentiate yourself from the incumbent.
Value Proposition: Craft a persuasive proposal emphasising your unique selling points.
Aggressive Pursuit: Proactively pursue the tender and engage with the buyer.
3️⃣ 80% – Incumbent 🏅
Being the incumbent, you have a lot to lose. You already have an established relationship with the buyer and the inside track. You know where to cut costs and maximise pricing margins, but complacency could be your biggest threat.
🔑 Key Strategies:
Strengthen Relationships: Nurture your relationship with the buyer to solidify your position.
Continuous Improvement: Keep evolving your offerings to meet changing needs.
Competitive Pricing: Leverage your knowledge to provide competitive pricing without sacrificing quality.
Remember, these win probabilities are not set in stone; your actions can influence the outcome. Assess each tender meticulously and tailor your approach accordingly to increase your chances of success. 🚀
#TenderWinningStrategies #BusinessSuccess #TenderWinProbability