International Protection Accomodation Contract Worth €4 Million
To offer safe and comfortable living arrangements to individuals seeking international protection, the Department of Children, Equality, Disability, Integration and Youth initiated a rigorous tendering process. This sought-after contract, called Panel 2, aimed to secure superior accommodation and related services for those in need. In this article, we delve into the intricate details of this groundbreaking €4 million contract win, shedding light on the meticulous strategies and comprehensive skills employed by Bid Specialists to emerge victorious.
Winning Tender: €4 Million Accommodation Services for Persons Seeking International Protection Contract – Panel 2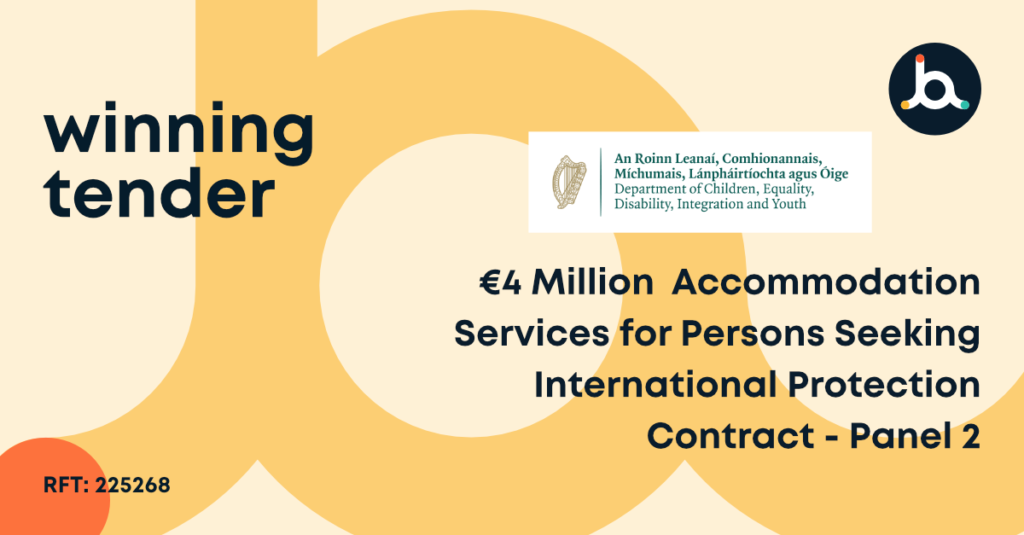 Applicants needed to demonstrate significant capacity and capability in the provision of the following accommodation services:
Bedroom accommodation
Maintenance and cleaning
Security and supervision
Management and staffing
Continuity of service
Independent living
Resident's wellbeing
Bid Specialists completed the tender response end-to-end. We qualified, planned, strategised and wrote the entire response. We crafted a compelling response to outscore the competition.
Bid Specialists' Skills:
Qualification strategy
Win strategy (needs, differentiators & discriminators)
Commercial strategy
Team planning & management
Content copywriting & editing
Content graphic design & document branding
CPV Codes:
55110000-4 Hotel accommodation services
55100000-1 Hotel services
55130000-0 Other hotel services
55250000-7 Letting services of short-stay furnished accommodation
55270000-3 Services provided by bed and breakfast establishments
55330000-2 Cafeteria services
55510000-8 Canteen services
55511000-5 Canteen and other restricted-clientele cafeteria services
55520000-1 Catering services
85311300-5 Welfare services for children and young people
85321000-5 Administrative social services