How Bid Specialists Secured a €3.3 Million Trinity College Dublin Pavilion Contract
How Bid Specialists Secured a €3.3 Million Trinity College Dublin Pavilion Contract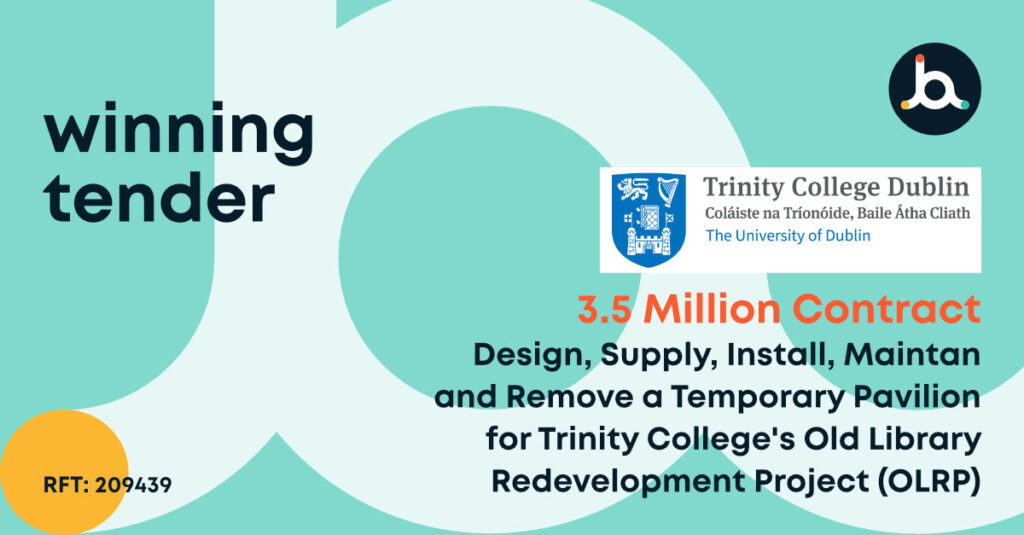 Trinity College Dublin Pavilion ContractBid Specialists played a pivotal role in securing a €3.3 million Trinity College Dublin Pavilion Contract for our specialist client. This prestigious contract involves designing, supplying, installing, maintaining, and removing a temporary pavilion for Trinity College's Old Library Redevelopment Project (OLRP). In this blog post, we'll delve into how Bid Specialists' expertise, from capture strategy to proposal writing, ensured the success of this endeavour.
🌟Trinity College Dublin Pavilion Contract Overview🌟
The Visit Trinity Exhibition is set to become the public face of Trinity College throughout the OLRP. Drawing in approximately 1.2 million visitors annually, the Old Library is undeniably one of Ireland's most frequented tourist attractions. Trinity College Dublin aimed to retain a significant portion of these visitors, over 600,000 annually, by creating an immersive exhibition within a temporary pavilion located within the College's historic grounds.
With their exceptional skills and unwavering dedication, Bid Specialists undertook the entire tender response process from start to finish. They meticulously qualified, planned, strategised, and composed the whole response, leaving no stone unturned in their pursuit of excellence. Their efforts culminated in a compelling response that outperformed the competition, leading to the coveted €3.3 million contract.
✅Bid Specialists' Skills
Bid Specialists brought a formidable set of skills to the table, ensuring the success of this venture:
➡️ Capture Strategy: Identifying the key elements necessary to capture the contract.
➡️ Qualification Strategy: Ensuring that Trinity College Dublin met all necessary qualifications.
➡️ Win Strategy (Needs, Differentiators & Discriminators): Identifying Trinity College's unique strengths and leveraging them effectively.
➡️ Commercial Strategy: Crafting a competitive and appealing financial proposal.
➡️ Proposal Strategy: Formulating a comprehensive proposal strategy that left no room for doubt.
➡️ Team Management: Coordinating and managing the efforts of the entire team.
➡️ Storyboarding: Creating a compelling narrative that resonated with Trinity College's vision.
➡️ Copywriting & Editing: Crafting persuasive and polished responses that stood out.
➡️ Graphic Design & Branding: Ensuring the proposal was visually appealing and aligned with Trinity College's branding.
This achievement, referenced under eTenders as 209439, is a testament to Bid Specialists' commitment to excellence and ability to secure prestigious client contracts. With their expertise, Trinity College Dublin is well on its way to realising its vision for an exceptional Visit Trinity Exhibition within the historic confines of the College 🚀.